CRITERIA FOR SELECTION OF STUDENTS TO BE AWARDED THE PRIZE FOR EXCELLENCE IN THE STUDY OF HISTORY
1. Students are nominated by the heads of the schools which they attend or by faculty members to whom this responsibility is delegated.
2. Nominees are to be graduating seniors. (Race, creed, gender, and sexuality are not valid criteria.)
3. Honorees have demonstrated excellence in their schools in the study of history. They are not necessarily the most outstanding history students in their schools: educators at schools which make other awards for excellence in the study of history are welcome to nominate students who would not otherwise receive an award. Alternatively, the New England Society award may be used to supplement other awards -- especially where such awards do not provide a physical object (such as a book) for the student to keep.
What is the History Award?
An Award for Excellence in the Study of History
What is the nature of the Award?
The Award consists of a book inside the front cover of which is placed a bookplate describing the award as follows: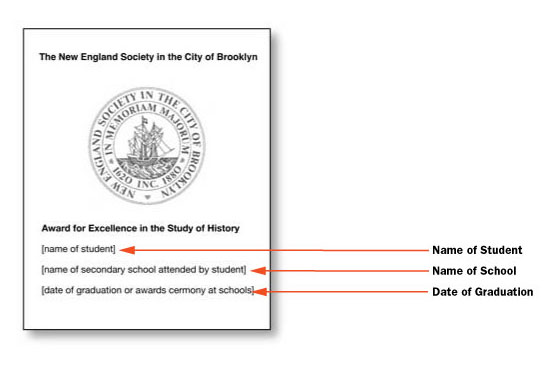 Books which have been selected include the following:
Allen, Charles. Gods Terrorists: The Wahhabi Cult and the Hidden Roots of Modern Jihad (N.Y.: Da Capo, 2006) Branch, Taylor. Pillar of Fire: America in the King Years, 1963-65 (N.Y.: Simon and Schuster, 1998)
Bromell, Nick. Tomorrow Never Knows: Rock and Psychedelics in the 1960s (Chicago: University of Chicago
Press, 2000
Chernow, Ron. Alexander Hamilton (N.Y.: Penguin Press, 2004)
Ellis, Joseph. His Excellency, George Washington (N.Y.: Knopf, 2004)
Everdell, William R. The First Moderns: Profiles in the Origins of Twentieth Century Thought
(Chicago: University of Chicago Press, 1997)
Haywood, John. Historical Atlas of the Medieval World (N.Y.: Barnes & Noble, 1998)
Hochschild, Adam. Bury the Chains: Prophets and Rebels in the Fight to Free an Empires Slaves
(N.Y.: Houghton Mifflin, 2005)
Hunter, Douglas. Half-Moon: Henry Hudson and the Voyage that Redrew the Map of the New World
(N.Y.: Bloomsbury Press, 2009)
Kershaw, Ian. Fateful Choices: Ten Decisions that Changed the World, 1940-1941 (N.Y.: Penguin Press, 2007)
Ketchum, Richard M. Divided Loyalties: How the American Revolution Came to New York (N.Y.: Holt, 2002)
Marozzi, Justin. Tamerlane: Sword of Islam, Conqueror of the World (N.Y.: Da Capo, 2004)
Oakes, James. The Radical and the Republican: Frederick Douglas, Abraham Lincoln, and the Triumph of Antislavery Politics (N.Y.: Norton, 2007)
Roberts, J. M. The Twentieth Century: History of the World, 1901-2000 (N.Y.: Viking, Press, 2001)
Zimmerman, Warren. The First Great Triumph: How Five Americans Made Their Country a World Power (N.Y.: Farrar, Straus & Giroux, 2002)