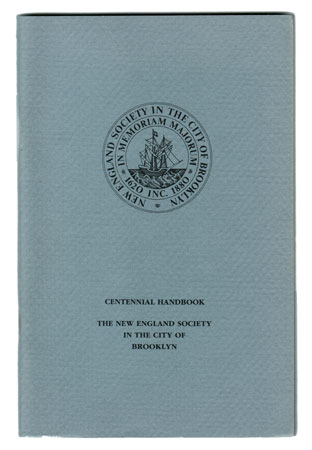 "A History of the Society" by William Lee Younger was first published in 1980 as part of a Centennial Handbook.  Pen-and-ink drawings by Lucy Durand Sikes of several sites mentioned in Mr.Younger's essay appear here as they did in the original text—as does the photograph of a portrait at the Brooklyn Historical Society of the New England Society's first president, Benjamin Silliman.
Three new pages of interest to historians appear on this "About" drop-down menu.  One is a group of historical photos which document events discussed in Mr. Younger's history. Another is a timeline compiled by historian William R. Everdell listing events since 1492 which have affected people living in what we call Brooklyn.  Third is prominent Brooklynites from New England—a listing that remains a work-in-progress.
Elsewhere on this website are two additional items from the Centennial Handbook that have been brought up to date.  One is the Grand Roster of everyone who had joined the Society after its incorporation in 1880.  Another is the list of scholarship recipients, updated and re-entitled "Previous Recipients" on the "Scholarships" menu.
"A History of the Society" by William Lee Younger, together with Lucy Durand Sykes's pen-and-ink drawings appears here, as published originally in the Centennial Handbook.